Vail, Colorado: The Ultimate Destination for Skiing
Known as the pinnacle of U.S. ski resorts and ranked among the global elite, Vail, Colorado serves as a diverse playground for outdoor enthusiasts. Featuring a ski mountain rich with a variety of challenging terrains, it also forms part of Vail Associates' portfolio, alongside the neighboring Beaver Creek ski resort and Edwards' Arrowhead ski mountain.

Establishing their dominance in the world of winter sports, Vail Associates not only competes but owns Canada's Whistler/Blackcomb ski resort. Aside from world-class skiing, Vail and Whistler are a hotbed for numerous winter sports, including cross-country skiing, snowmobiling, and sledding. Moreover, Vail and Beaver Creek are recognized venues for annual global skiing events and Olympic competitions.

Growth and development in the Vail Valley, spanning from Avon to Edwards and extending to Eagle, adhere to meticulous planning to conserve the natural splendor of this coveted Rocky Mountain resort. Beyond being an esteemed ski mountain, Vail represents a multifaceted hub for outdoor activities.

During summer, Vail becomes a paradise for rafting, hiking, hunting, fishing, camping, cycling, sightseeing, and swimming. Recognized for its premium dining destinations, quaint shops, art galleries, and exceptional resort hotels, Vail serves as a picturesque venue for weddings, conventions, and other special occasions.

First introduced in Vail in the early 1970s, the inaugural gondola in the U.S. marked a new era of year-round chalets, cabins, and summer activities. Enclosed by the White River National Forest, Vail enjoys over 275 days of sunshine each year and is conveniently accessible from Denver within approximately 1.5 hours.

Vail doubles as a cultural haven, hosting attractions such as the Colorado Vail Valley Music Festival, Vilar Center for the Arts, the Vail International Dance Festival, a Jazz festival every August, and the Vail Film Festival.

The Vail, Avon, and Edwards area boast a range of sophisticated custom homes, assorted condominiums, ski-in ski-out residences, and more. As real estate in these areas come at a premium, potential buyers should anticipate high prices.

List of Zipcodes
| Zip Code | Zip Code Name | Zip Code Population |
| --- | --- | --- |
| 81657 | Vail | 5,160 |
| 81658 | Vail | |
Demographics
| | Zip Code | City | County | State | National |
| --- | --- | --- | --- | --- | --- |
| Population | 4,270 | — | — | 5,759,582 | 331,426,769 |
| Population Density | 49.4 | — | — | 55.5 | 93.8 |
| Percent Male | 49.0% | — | — | 49.0% | 49.0% |
| Percent Female | 51.0% | — | — | 51.0% | 51.0% |
| Median Age | 50.8 | — | — | 40.2 | 39.0 |
| People per Household | 2.6 | — | — | 2.8 | 2.6 |
| Median Household Income | $106,904 | — | — | $115,942 | $61,963 |
| Average Income per Capital | $52,013 | — | — | $50,725 | $33,235 |
Market Data
| | Zip Code | City | County | State | National |
| --- | --- | --- | --- | --- | --- |
| Median Sale Price | $725,000 | — | — | $425,100 | $277,796 |
| Median Age of Home | 37.0 | — | — | 39.0 | 49.0 |
| Homes Owned | 86.0% | — | — | 67.0% | 58.0% |
| Homes Rented | 10.0% | — | — | 23.0% | 31.0% |
| Homes Vacant | 5.0% | — | — | 4.0% | 11.0% |
Market Trend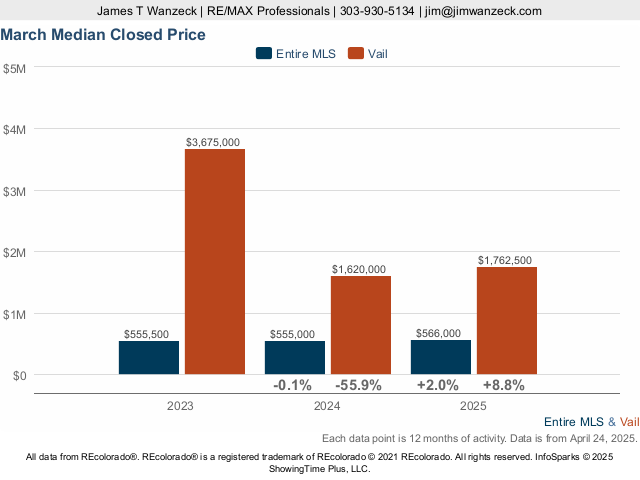 4 properties on market
Contact Us
RE/MAX Professionals
6020 Greenwood Plaza Boulevard
Greenwood Village, CO 80111, USA
Valuation Index
Quality of Life - 90%
Climate & Environment - 75%
Schools & Education - 73%
Safety & Crime - 17%
Walk Score®
Schools & Education
Safety & Crime
Zip Code
City
County
State
National

Violent Crimes

Calculated annually per 100,000 residents

Assault
162.9
—
—
246.3
250.2
Murder
2.2
—
—
3.8
5.0
Rape
70.4
—
—
67.2
42.6
Robbery
123.3
—
—
63.6
81.6

Property Crimes

Calculated annually per 100,000 residents

Burglary
223.7
—
—
348.4
340.5
Theft
360.4
—
—
1,858.3
1,549.5
Motor Vehicle Theft
603.0
—
—
384.0
219.9
Take a photo of this QR code
to keep this website details