Homes in Vail, Colorado
Vail is America's number one ski resort and is among the world's best resort destinations of any kind. The city of Vail has matured into a cosmopolitan town featuring nearly every imaginable outdoor activity that one can enjoy. The ski mountain is huge and features some of the most demanding runs on the planet. The nearby Beaver Creek ski resort is also owned by Vail Associates, and it includes the Arrowhead ski mountain at Edwards.

Vail was always in competition with Canada's Whistler/Blackcomb ski resort in British Columbia, so Vail Associates bought this magnificent resort to become the largest ski mountain owner on planet earth. Vail and Whistler also offer many other winter sports, including cross country skiing, snowmobiling, sledding, and more. Both Vail and Beaver annually host world championship skiing events and Olympic competitions.

The Vail Valley can no longer be defined as within the city limits of Vail. The growth through Avon to Edwards and beyond to Eagle has been developed using a meticulous plan that preserves the natural beauty of the Rocky Mountain resort. But Vail represents much more than a great ski mountain.

Summer activities include rafting, hiking, hunting and fishing, camping, bicycling, sightseeing, swimming, or just hanging out in a breathtaking setting. Vail is also known for its incredible restaurants and taverns, quaint shops, art galleries, and amazing resort hotels, creating the perfect venue for weddings, conventions, and other special events and occasions. The Ute Indians made the Vail Valley their summer home long before Colorado was settled by people moving west.

The first gondola in the country was opened at Vail in the early 1970's. By 1985, the scene included not only skiing but also year-round chalets and cabins, plus a wealth of summer activities. The area is surrounded by the White River National Forest. Vail features more than 275 days of sunshine each year and can be reached by car in about 1-1/2 hours from Denver, weather allowing.

Vail is also a fantastic cultural center, with such attractions as the Colorado Vail Valley Music Festival, Vilar Center for the Arts, the Vail International Dance Festival, a Jazz festival every August, the Vail Film Festival, and much more.

The Vail, Avon, and Edwards area features some of the most magnificent custom homes in America, in addition to a variety of condominiums, ski-in ski-out residences, and more. Deep pockets are required to purchase a home here, so be prepared for sticker shock if you're seeking a vacation home or permanent residence in this spectacular high-country setting. The labor pool for Vail and Beaver Creek are forced to commute from small mountain communities where they can afford to live, usually in a trailer park, sharing the rent with a half-dozen others who live in a condo.
List of Zipcodes
| Zip Code | Zip Code Name | Zip Code Population |
| --- | --- | --- |
| 81657 | | |
| 81658 | | |
Demographics
| | Zip Code | City | County | State | National |
| --- | --- | --- | --- | --- | --- |
| Population | 4,270 | — | — | 5,759,582 | 331,426,769 |
| Population Density | 49.4 | — | — | 55.5 | 93.8 |
| Percent Male | 49.0% | — | — | 49.0% | 49.0% |
| Percent Female | 51.0% | — | — | 51.0% | 51.0% |
| Median Age | 50.8 | — | — | 40.2 | 39.0 |
| People per Household | 2.6 | — | — | 2.8 | 2.6 |
| Median Household Income | $106,904 | — | — | $115,942 | $61,963 |
| Average Income per Capital | $52,013 | — | — | $50,725 | $33,235 |
Market Data
| | Zip Code | City | County | State | National |
| --- | --- | --- | --- | --- | --- |
| Median Sale Price | $725,000 | — | — | $425,100 | $277,796 |
| Median Age of Home | 37.0 | — | — | 39.0 | 49.0 |
| Homes Owned | 86.0% | — | — | 67.0% | 58.0% |
| Homes Rented | 10.0% | — | — | 23.0% | 31.0% |
| Homes Vacant | 5.0% | — | — | 4.0% | 11.0% |
Market Trend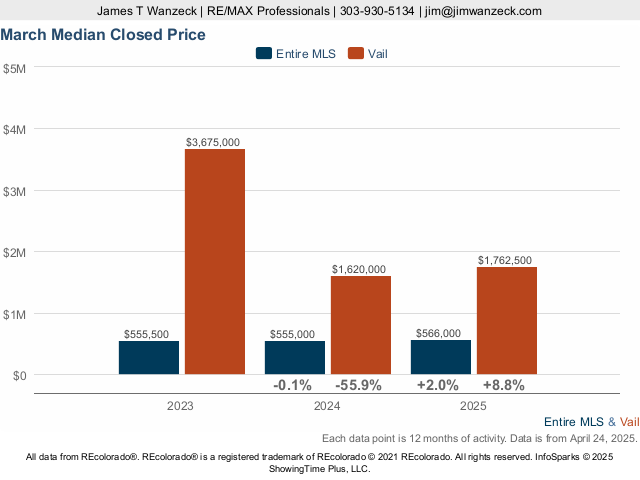 Properties on market
No available property on market in Homes in Vail, Colorado
Contact Us
RE/MAX Professionals
6020 Greenwood Plaza Blvd #100
Greenwood Village, CO 80111, USA
Valuation Index
Quality of Life - 90%
Climate & Environment - 75%
Schools & Education - 73%
Safety & Crime - 17%
Walk Score®
Schools & Education
Safety & Crime
Zip Code
City
County
State
National

Violent Crimes

Calculated annually per 100,000 residents

Assault
162.9
—
—
246.3
250.2
Murder
2.2
—
—
3.8
5.0
Rape
70.4
—
—
67.2
42.6
Robbery
123.3
—
—
63.6
81.6

Property Crimes

Calculated annually per 100,000 residents

Burglary
223.7
—
—
348.4
340.5
Theft
360.4
—
—
1,858.3
1,549.5
Motor Vehicle Theft
603.0
—
—
384.0
219.9
Take a photo of this QR code
to keep this website details